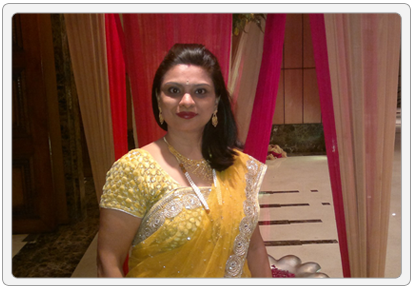 Acharya Mrs Rrachita Gupta (Winner of Tarot Diva Award) is a qualified Jyotish Rishi and Shastracharya from All India Federation of Astrological Societies, the topmost Occult education Institution in the country.

She also holds degrees in Ank Shastracharya(Numerology), Vaastu Shastracharya, Tarot Reading and Counselling, Chakra Healing and Dowsing.

After graduating in History from Lady Shri Ram College , and an M.A. in Economics she is Gold Medalist MBA from Delhi. She has rich corporate experience in India and abroad with special focus on Mentoring, Training and Psychological Coaching. Her 10 year stay in Europe and Asia has given her special skills to deal with multi-cultural temperaments as also special training in Feng Shui (Taiwan).
Being a firm believer in Laws of Universal Energy, she upholds that the various Divination Sciences are inter-related and must be used in synergy with each other to understand the problems of the querist who comes to seek an answer and provide him/her high quality and sincere guidance.
For her, Astrology and Tarot began as a personal interest to seek answers and soon spiralled into a passion when she saw accurate predictions and satisfied clients. She has trained "One – on- One" with some of the best names in the industry and gained for herself the title of "Divine Counsellor with a rational Mind".
She has been awarded the TAROT DIVA award by Bharat Nirman(GOI)for her unique work in  "Astrological Perspectives into Tarot". She provides convincing analysis and Remedies/Solutions for variety of issues like Marital Problems, Marriage, Love-Affairs, Career Decisions, Financial Problems, Illness, Personal Relationships , Foreign Travel 
Her strengths are: going deep into the problem, analysing it with a scientific temperament and quickly building a positive and trustful rapport with the person who seeks guidance from her. 
Her life mission is to build more awareness about the Alternate Sciences and educate the modern generation about the wonders of accurate Tarot and Astrology.